Entertainment
Now bringing you some of the best entertainment on the second Friday every Month and most of it's FREE!
Read on to see what is coming up or check out Facebook.
JANUARY
SPY VS SPY- FREE SHOW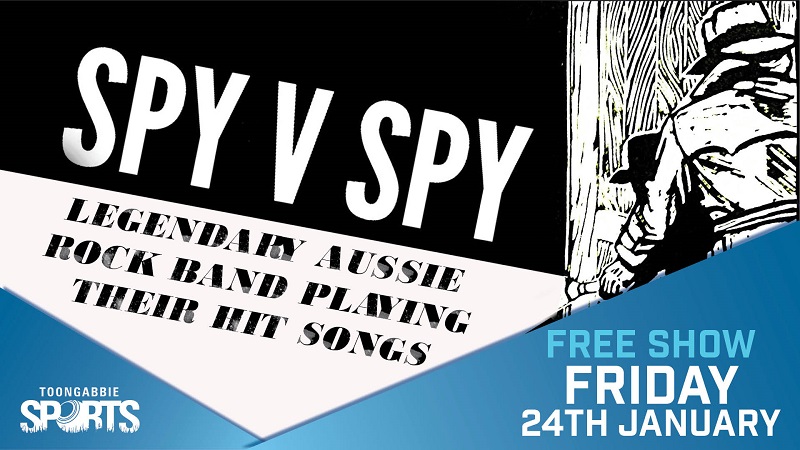 FEBRUARY
Sydney Hot Shots!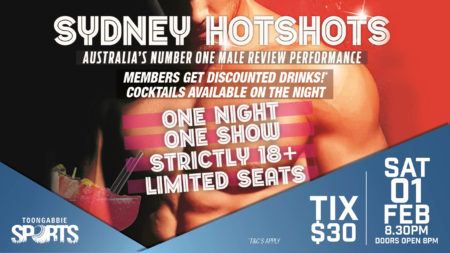 Don't miss your chance to get up close and personal with the next generation of The Sydney Hotshots, undeniably Australia's hottest male stage show.
Recruited from all over the world and trained at the Hotshots Headquarters, The  Vegas Lounge-located in the heart of Sydney, thee are undeniably the most captivating performers you'll see this year.
Fresh from run of sell-out shows across the county, the men of The Sydney Hotshots are ready to turn up the heat in Toongabbie Sports Club with their 2020 "Secret Fantasies" tour.
With drop dead gorgeous physiques and warm personalities, The Hotshots have been favored as guests for television appearances including the Midday Show, Sunrise, Good Morning New Zealand and countless radio programmes all over Australia and New Zealand.
It's time to grab your friends and get ready for one hell of a night, because ladies…
The Sydney Hotshots are coming!
Video here: https://www.youtube.com/watch?v=WsCqaq_PokM&feature=youtu.be
KEY INFO: T&C's Apply.
Doors open 8PM
Show Starts 8:30PM
Tickets on sale NOW @ reception $30 – LIMITED SEATS!
Cocktails available on the night
Join to be a member and get 50c off each drink (excluding cocktails)
For more questions contact our Functions Coordinator on: 8602 3702.
THUNDERSTRUCK AC/DC
SHADOW BOXER ANGELS- FREE SHOW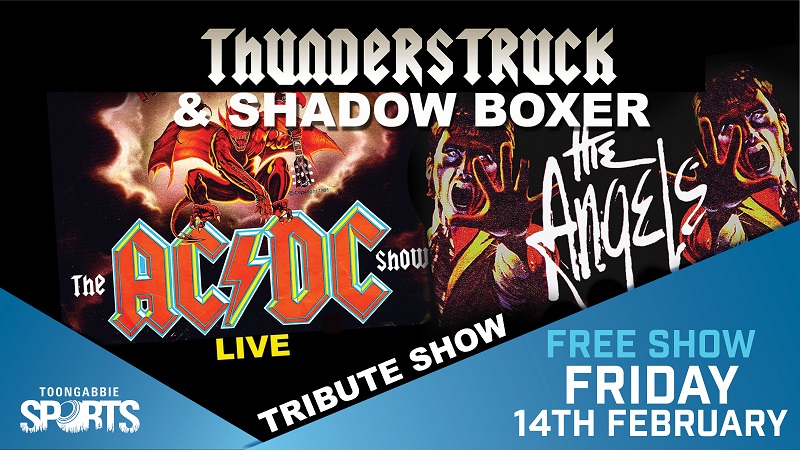 Thunderstruck and Shadowboxer LIVE AND FREE
THUNDERSTRUCK has become Sydney's premier AC/DC Tribute Show. This has come from hard work and trying to get everything right and pleasing the audience show after show. Our formula is we have never done this for the pay we do it because we love it, and it shows time and time again. Thunderstruck is a Sydney based AC/DC tribute band made up of guys who have a passion for Rock n Roll.
The Angels have been making great Aussie music and playing live since 1976. They have enjoyed massive chart topping success and live success through their energetic and sweaty live shows. They were the next in line to carry the flag for Rock n Roll when AC/DC left Australia in the mid 70's to make it in the US and European markets and remain well loved in Oz.
MARCH
All Access 80's – Free Show
They're Back!
This is your VIP pass to the ultimate 80s rock experience.
The biggest hair, the tightest pants, the wildest party outside the sunset strip.
From hard hitting rock to power ballads, all your 80s favourites in one kick-ass show, loud and free at Toongabbie.
These boys have the looks, the moves and the attitude to match, without the substance abuse.
APRIL
The Radiators – Free Show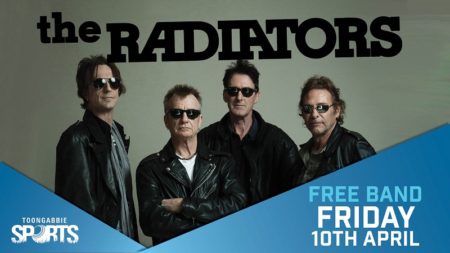 Always a good time with the Radiators!
The rock 'n' roll road to stardom is a dangerous road indeed littered with the corpses of starry eyed hopeful's, wannabes ,one hit wonders and jagged "if only's"…while many bands self‐implode before they even leave the garage, victims of classic clashing egos and personalities ……
Few survive…
One of these survivors is Australian band THE RADIATORS who retain their enthusiasm for the music and the fans after more than 35 years of touring together.
Two Fires – Anzac Day – Free Show
TWO FIRES Australia's Premier Cold Chisel & Jimmy Barnes Show
On the eve of Anzac DAY.
If you're a Jimmy or Chisel fan this show is not to be missed !!!
LIVE & LOUD.. One Epic Show DON'T MISS IT!!!
Two Fires Australia's Premier Cold Chisel & Jimmy Barnes Show has travelled nationally and have performed many large events and top venues from Hotels, Festivals, Private Functions and Casino's. They bring their high energy Chisel/Barnes Show to all types of audiences. From Incredible vocals of Jimmy Barnes and powerful rhythms Two Fires consistently deliver an accurate reproduction of the Chisel/Barnes Show from studio and concert performances.
MAY
The Crowdies – Free Show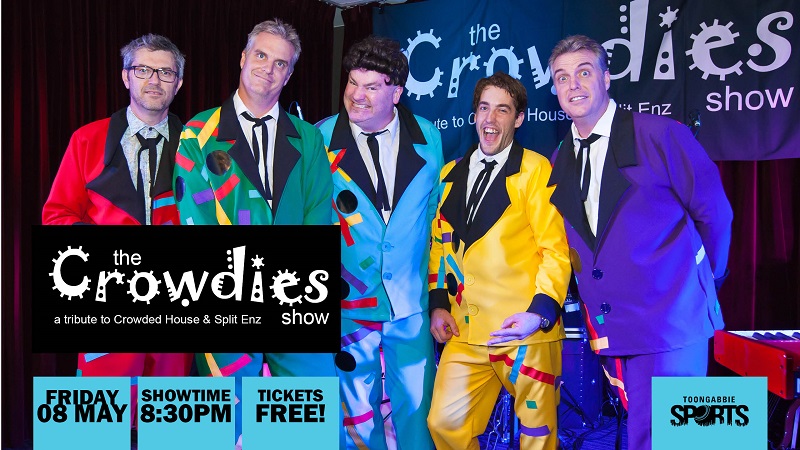 For over 20 years Crowded House have been responsible for some of the most memorable songs and live performances of the 20th Century.
The songs of Crowded House & Split Enz were the soundtrack to the 80's & 90's for many Australians and for millions of people the world over.
'You know more Crowded House songs than you think'…
Performing timeless hits like 'Weather With You', 'Don't Dream It's Over', 'Distant Sun', 'Fall At Your Feet', 'It's Only Natural', 'Four Seasons In One Day', 'Locked Out', 'Something So Strong', 'Better Be Home Soon' – plus choice tracks from all the studio albums and Split Enz classics like 'I See Red' and 'Message To My Girl' .
The Crowdies Show – gives you the brilliant sound and genuine spontaneity of Crowded House.
The Crowdies Show delivers a professional and totally live (no backing tracks) 90 min-plus set, combining killer tunes with energy and spontaneity guaranteed to appeal not only to Crowded House die-hards, but to fans of live music everywhere.
JUNE
Wanted – Bon Jovi Tribute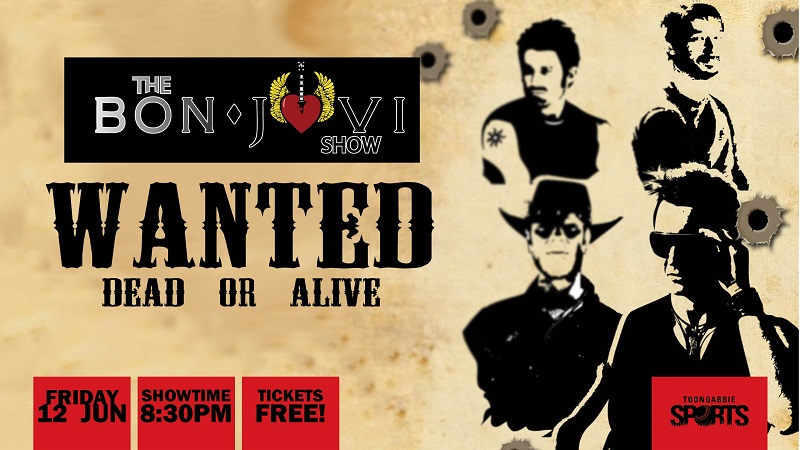 Back in 1983 a powerhouse rock group was formed in the back streets of New Jersey that were about to "Runaway" and take the world by storm.
Wanted the Bon Jovi show is a dynamic rock infused show that takes you on a rollercoaster journey down memory lane through the mega hits of one of the biggest and most loved bands in history.
Supported by "Billboard" one of Sydney's most seasoned and requested cover bands and fronted by experienced front man David Berner singing all your favourite Bon Jovi songs in original keys!, "Wanted – The Bon Jovi Show" is guaranteed to rock your socks off!
JULY
IRON LION – Free Show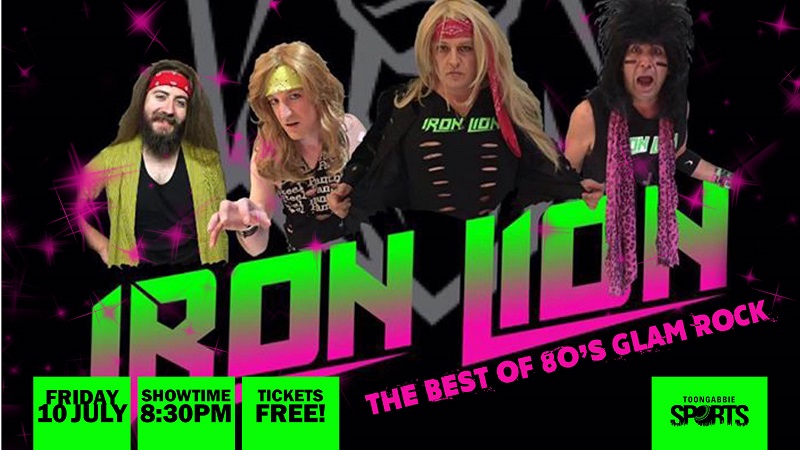 The year is 1985, and the band IRON LION have signed to one of the biggest record labels of the day. They have just recorded 4 albums worth of material in Hollywood and are ready to embark on a whirlwind tour of South America and Europe when …. the IRON LION plane is reported lost in the Bermuda Triangle! Sucked into a huge whirlpool they leave 1985 and emerge in modern day Australia. With the band missing and assumed killed in the plane crash, the record company sells off all their songs to artists such as Def Leppard, Bon Jovi, Poison, Kiss, Motley Crue, Twisted Sister and AC/DC. Imagine IRON LION's surprise, transmogrified into 2014 Sydney, only to discover all their best songs have become huge international hits! What to do??! Rejoin the party, that's what!
So, IRON LION are here in Australia to rock & roll all night long, playing 2+ hours of hits mixed with a healthy dose of comedy and tongue-in-cheek laughs. Dressed in their 80's finest, IRON LION puts the glitz, glamour and fun times of the 80s back into a live show.