Entertainment
Now bringing you some of the best entertainment on the second Friday every Month and most of it's FREE!
Read on to see what is coming up or check out Facebook.
NOVEMBER
Fleetwood Nicks FREE SHOW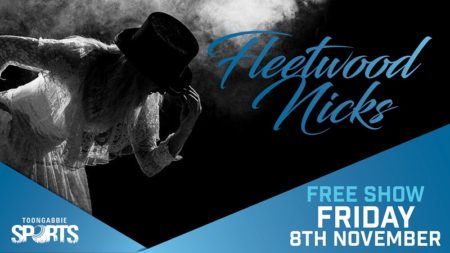 NOVEMBER
A VEGAS REUNION //  PAID SHOW
TICKETS AVAILABLE AT RECEPTION – 
$10 M    $20 V 
Frank Sinatra, Liza Minelli & Engelbert Humperdinck have ONE thing in common and that is…LAS VEGAS
At various times in their careers, these three amazing entertainers have brought their talent & individuality to some of the greatest stages in Las Vegas and have each in their own way, contributed to various avenues of what we generally refer to as " show business": big band, movies, Music Theatre, Concerts, "one man " shows, but most importantly as recording artists and as such, have entered our lives and conquered our home lounges for decades.
Ed White ( as Frank Sinatra), Rikelle Brown ( as Liza Minelli) & Milko Foucault – Larche (as Engelbert Humperdinck) have joined forces to deliver a new combination of genres and music styles in one production show.
A cavalcade of your favourite hits…
A New Concert Experience coming soon to a venue near you.
A VEGAS REUNION is an Australian Premiere designed and produced by Top Note promotions.
Great music, fabulous songs and amazing vocals spiced up by a great sense of Australian mateship and " A Vegas Reunion" is your perfect night of non – stop entertainment.
A Vegas Reunion is a self contained show.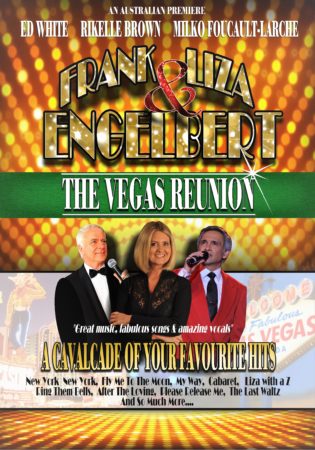 DECEMBER
Totally Aussie 80's FREE SHOW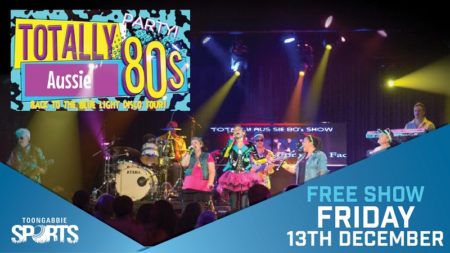 DECEMBER – NEW YEARS EVE!
Rock City Saints FREE SHOW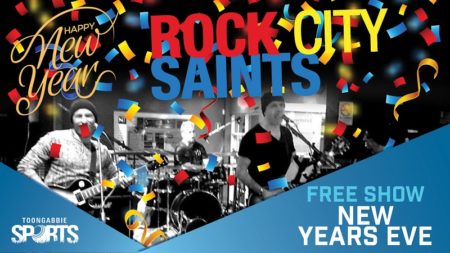 FEBRUARY
Sydney Hot Shots! – Free Show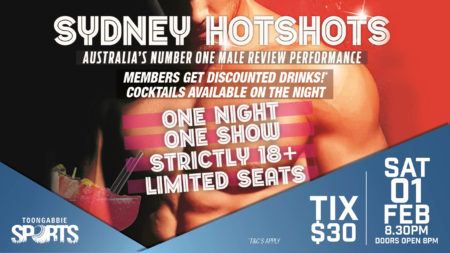 Don't miss your chance to get up close and personal with the next generation of The Sydney Hotshots, undeniably Australia's hottest male stage show.
Recruited from all over the world and trained at the Hotshots Headquarters, Th Vegas Lounge-located in the heart of Sydney, thee are undeniably the most captivating performers you'll see this year.
Fresh from run of sell-out shows across the county, the men of The Sydney Hotshots are ready to turn up the heat in Toongabbie Sports Club with their 2020 "Secret Fantasies" tour.
With drop dead gorgeous physiques and warm personalities, The Hotshots have been favored as guests for television appearances including the Midday Show, Sunrise, Good Morning New Zealand and countless radio programmes all over Australia and New Zealand.
It's time to grab your friends and get ready for one hell of a night, because ladies…
The Sydney Hotshots are coming!
Video here: https://www.youtube.com/watch?v=WsCqaq_PokM&feature=youtu.be
KEY INFO: T&C's Apply.
Doors open 8PM
Show Starts 8:30PM
Tickets on sale NOW @ reception $30 – LIMITED SEATS!
Cocktails available on the night
Join to be a member and get 50c off each drink (excluding cocktails)
For more questions contact our Functions Coordinator on: 8602 3702.