Entertainment
IS BACK BABY!!
Check out Facebook for other activities.
Lies N Destruction – Sat 29 May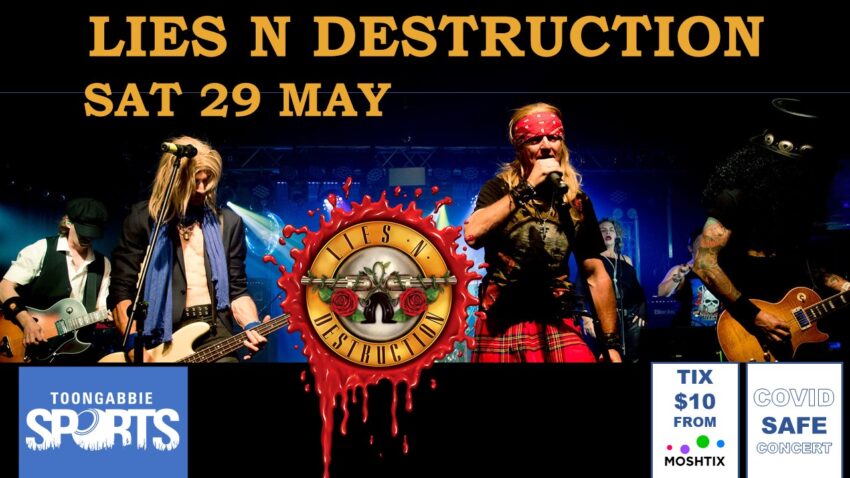 Lies N' Destruction – Australia's Ultimate Guns N' Roses tribute act, brings to life the world's most dangerous Rock N Roll band. Relive the music that defined the late '80s and early '90s, and experience firsthand the decadence and indulgence that shaped generations of obsessive fans
 The band covers material from all of the band's albums, from the faultless debut album Appetite For Destruction with such classics as Sweet Child O Mine, Welcome To The Jungle and It's So Easy, through to GN'R Lies with cult favourites, Patience, Reckless Life and Move To The City. The band effortlessly dives into the Use Your Illusion Double Albums with staples November Rain, You Could Be Mine, Don't Cry, Knockin' On Heaven's Door and even more fan favourites like Civil War, Pretty Tied Up and Right Next Door To Hell.
One Hit Wonders – Fri 11 June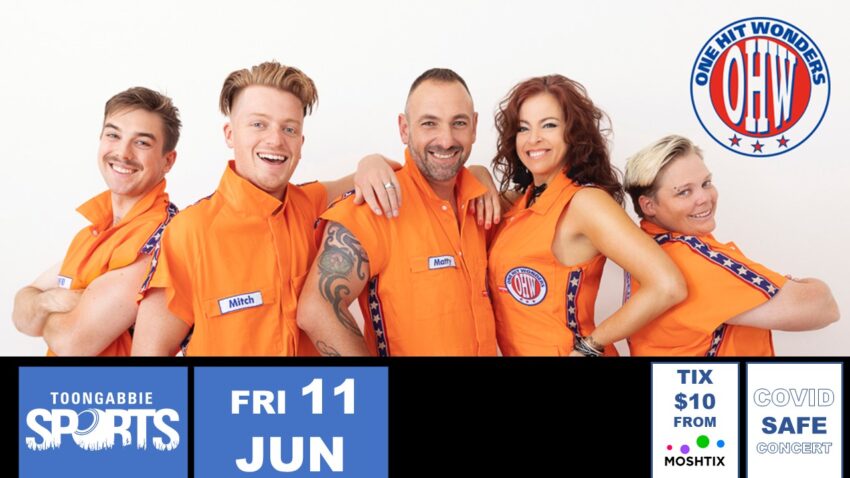 All those shooting stars of the pop world that rose to instant fame with one big tune and then sank into oblivion soon afterwards are indulged with tongue-in cheek irreverence. The band covers musical styles to suit all tastes – from Disco to Glam Rock, Pop to Current Top 40.
One Hit Wonders is a band that plays songs by other bands that had – One Hit!
Since the bands inception in 1991, One Hit Wonders have been a favourite on the Sydney party cover band circuit performing over 2000 shows.
Walking On Sunshine – Katrina And The Waves
I Love Rock N Roll – Joan Jett And The Blackhearts
Blister In The Sun – Violent Femmes
What I Like About You – The Romantics
500 Miles – The Proclaimers
Gallen V Huni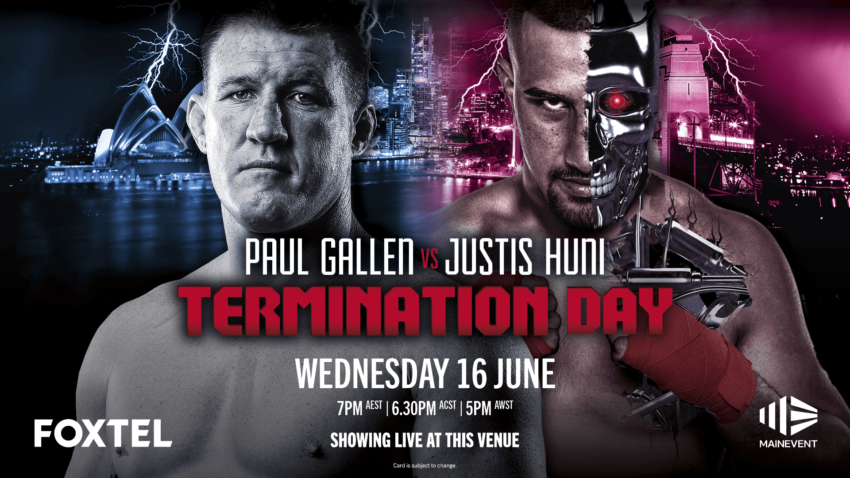 Justis Huni has delivered a statement to Australia, and Paul Gallen.
Like a cat playing with a mouse, Huni, the 22-year-old Australian heavyweight champion who will compete at Tokyo's Olympics, delivered on his promoter's promise winning against Tsoye before his match up with Gallen.
Will this be the real test for these two?
the Radiators – Sat 26 June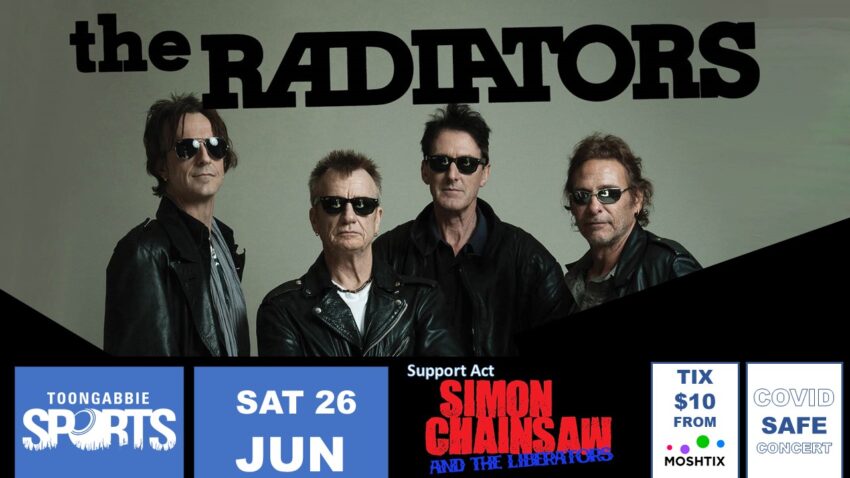 The rock 'n' roll road to stardom is a dangerous road indeed littered with the corpses of starry eyed hopeful's, wannabes ,one hit wonders and jagged "if only's"…while many bands self‐implode before they even leave the garage, victims of classic clashing egos and personalities ……
Few survive…
One of these survivors is Australian band THE RADIATORS who retain their enthusiasm for the music and the fans after more than 35 years of touring together.
The Radiators have carved a niche in the annals of Australian rock history, they have hared the stage with all the great Aussie acts such as AC/DC, Rose Tattoo and INXS with over 4000 shows to their credit, the Radiators have played the music to an estimated 3 million people in Australia and you're next!!
With Support from Simon Chainsaw and the Liberators!
Tszyu V Zerafa – 7 July 2021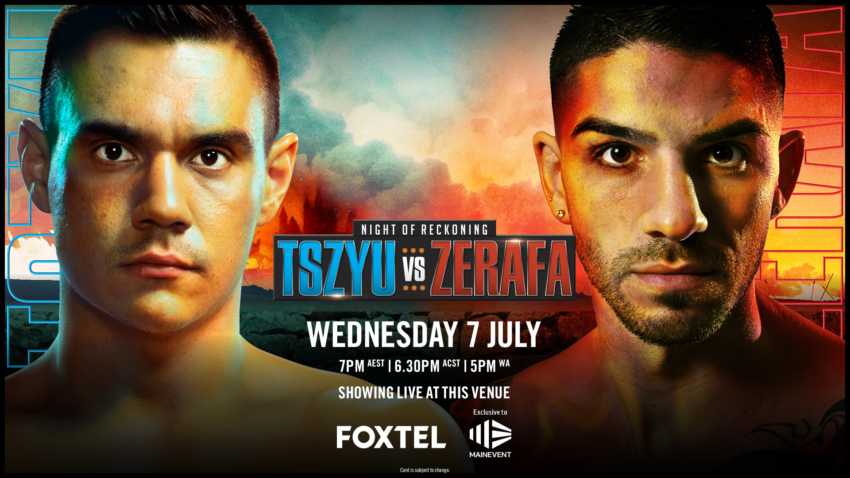 Tim Tszyu's fight in Newcastle sold out in less than 24 hours, and he warned rival Michael Zerafa that it will feel like there are 50,000 fans baying for his blood at the venue renamed 'Tszyucastle Entertainment Centre'.
The July 7 showdown between Tszyu and Zerafa officially sold all 5700 seats but we have a warm seat waiting for you!
80's Flashback – Fri 9 Jul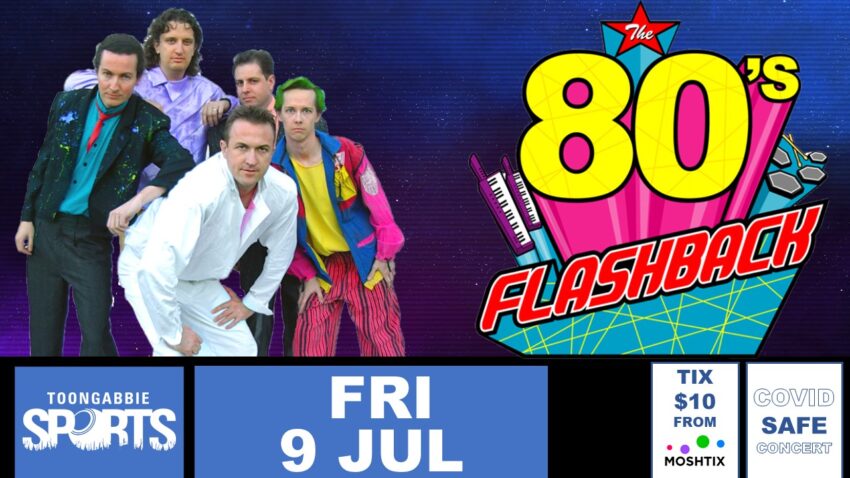 The 80's Flashback are back!
The 80's Flashback are a vibrant high energy, 5-piece Retro/Rock band that perform totally live. From the moment the show begins, The 80's Flashback have the audiences on their feet dancing those 80's steps and singing those lost but not forgotten 80's tunes.
Experience the 80's by reliving the sights and sounds of a time fashion forgot. The 80's Flashback perform a decade of classic 80's, rock to retro hits with songs you remember and songs you wish you didn't.
The audience will experience the 80's by reliving the sights and sounds of a time fashion forgot. Step back in time and see the 80's how it really was, as The 80's Flashback show their lack of fashion sense and colour coordination.
The audience will be intrigued as well as entertained all night by the sights, sounds, the on stage antics and general fun atmosphere that the band project.
So turn back the clock, bring on the big hair and the thin leather ties. Let's get that dance floor pumpin'. People can even bring along their Rubik's cube if they like. For a great night of entertainment for your function, club or venue, you cannot go past The 80's Flashback.
Old School Band – Sat 17 Jul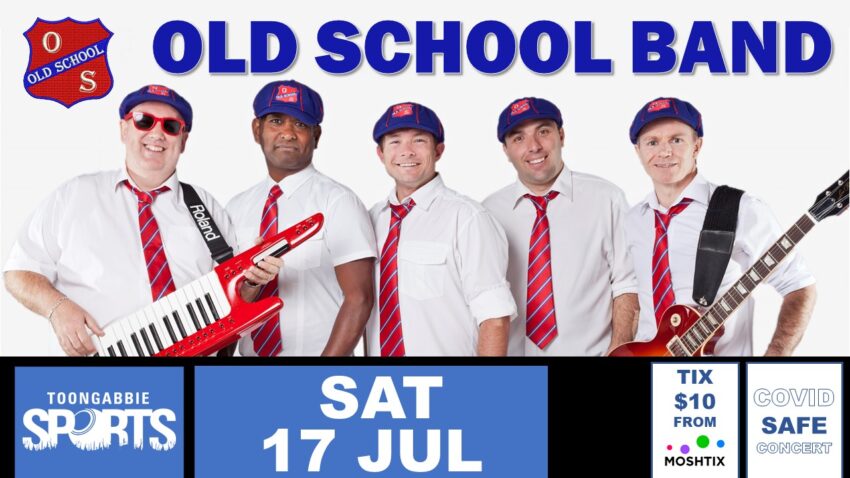 This band has an unapologetic passion for the mighty 80's that is infectious – creating a party atmosphere without inhibition.
'Old School' are a five piece group of professional, experienced musicians that never fail to hook the audience in. Specialising in all the old school hits, this band have been playing together for many years. Their repertoire crosses genres but stays true to the 80's era. 'Old School' respect the original artists and play the songs like the record, so audiences can sing along, out loud and proud.
Wanted the Bon Jovi Show -Sat 31 Jul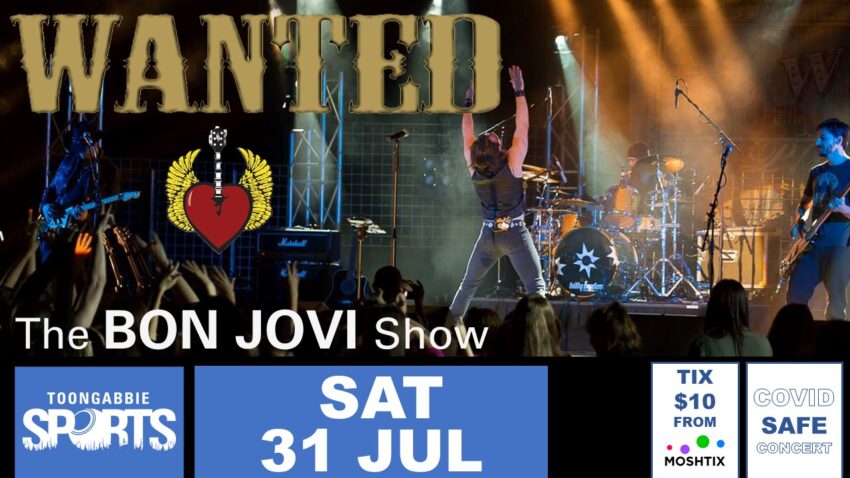 Wanted the Bon Jovi show
Back in 1983 a powerhouse rock group was formed in the back streets of New Jersey that were about to "Runaway" and take the world by storm.
Wanted the Bon Jovi show is a dynamic rock infused show that takes you on a rollercoaster journey down memory lane through the mega hits of one of the biggest and most loved bands in history.
Supported by "Billboard" one of Sydney's most seasoned and requested cover bands and fronted by experienced front man David Berner singing all your favourite Bon Jovi songs in original keys!, "Wanted – The Bon Jovi Show" is guaranteed to rock your socks off!
Soooo many hits.
Lay Your Hands On Me, Bad Medicine, Sleep When I'm Dead, Dead Or Alive, Bed Of Roses, It's My Life, Keep The Faith, Blaze Of Glory, Always, In These Arms, You Give Love A Bad Name, Living On A Prayer and many more …
The Black List – Fri 13 Aug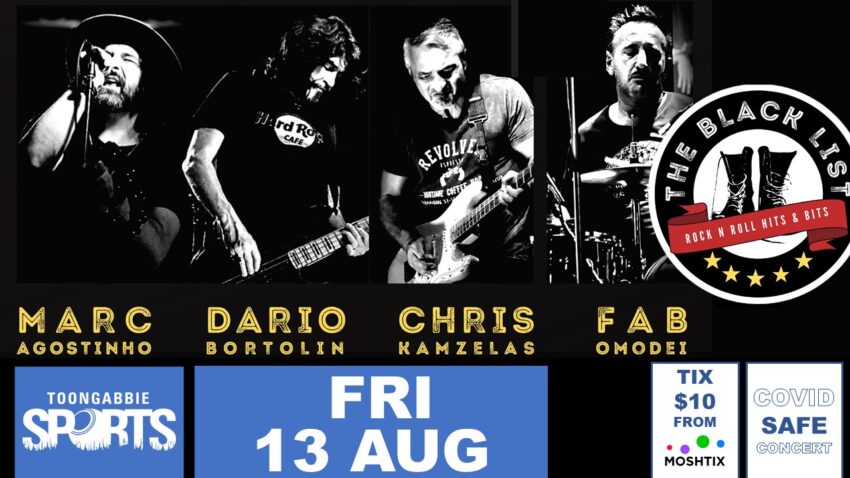 The Black List are a Sydney based supergroup rock n roll act made up of some of Australia's premium session musicians.
With over 15 years of live performing between the 4 band members, the Blacklist began when the lead singer Mark became a top 12 finalist in the country's most successful talent show Australian Idol in 2007.
Their repertoire boasts cover songs by acts like The Beatles, Rolling Stones, Aerosmith, Cold Chisel, The Easybeats, AC/DC and many more.