Entertainment
Well it's been a Loooong while since anyone has seen LIVE entertainment, but its now allowed back with restrictions which means some changes are needed.
The first is we need to limit the audience number to comply with COVID requirements…..  so to make sure we can do this events will be ticketed.
Tickets will be available from MOSHTIX for a flat fee of $10 (unless advertised otherwise).
Limited tickets "may" be available from the door on the night of the performance and will be sold on a first come first served basis – No holds, no Guarantees.
Restrictions and Safety guidelines may change from time to time that are beyond the clubs control that audience members must abide by. At this stage the audience must be seated for the performance.
Read on to see what is coming up or check out Facebook.
Great Southern Nights
Proudly brought to you in conjunction with NSW Government and ARIA Toongabbie sports is participating in the Great Southern Nights initiative with 3 awesome gigs.
SAT 7 November 2020 – OLD SCHOOL
This band has an unapologetic passion for the mighty 80's that is infectious – creating a party atmosphere without inhibition.
'Old School' are a five piece group of professional, experienced musicians that never fail to hook the audience in. Specialising in all the old school hits, this band have been playing together for many years. Their repertoire crosses genres but stays true to the 80's era. 'Old School' respect the original artists and play the songs like the record, so audiences can sing along, out loud and proud.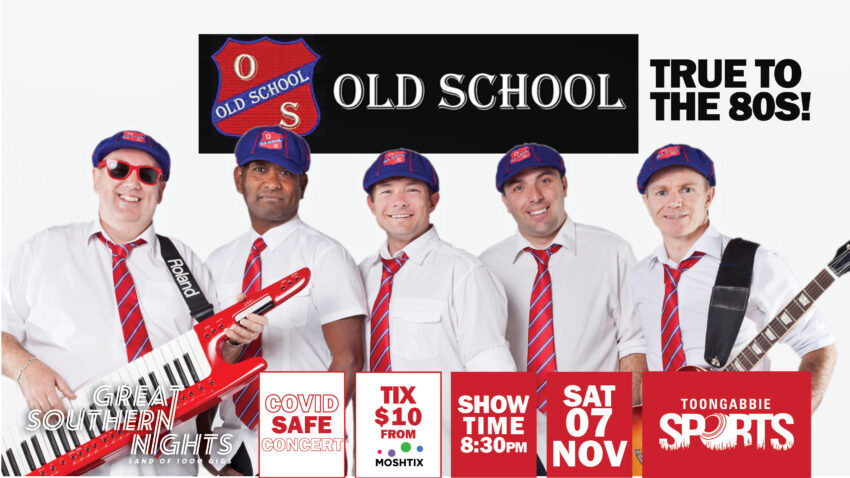 FRI 13 November 2020 -SPY V SPY
Spy V Spy return with support from URBAN GUERILLAS!
The socially conscience band that has been around since the early eighties.
Started in Nelson Bay but really found their way once they moved to Sydney, living in the squats at Glebe.
Their last show together on stage was to a sold-out show & Michael's last wishes for the band was for them to continue playing Spy v Spy music live.
The Spy's live show is like being hit by a truck, the songs Injustice, Hard Times, Soldiers, A.O, Credit Cards, One Of A Kind, Don't Tear It Down, come at you hard & fast, music with a message, an experience in musical nirvana.
Spy vs Spy are ready to go.
A night not to be missed.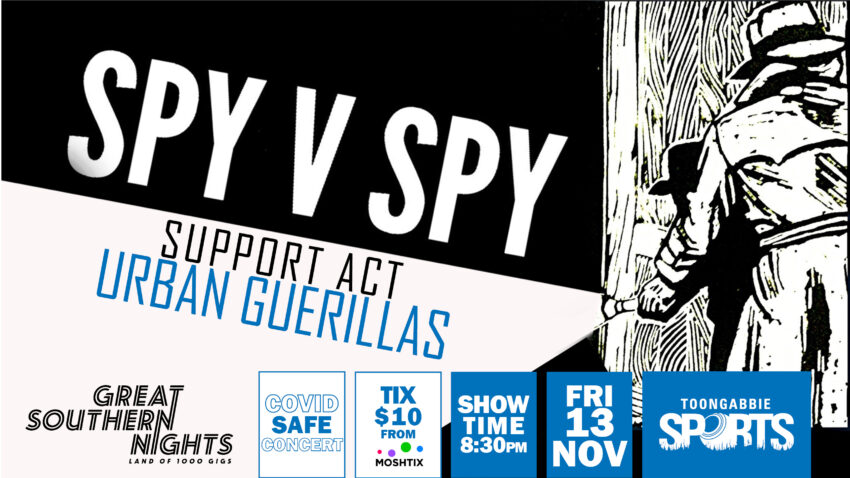 21 November 2020 – Coverpalooza + Rock Cons
Coverpalooza embodies the definition of their name. There is no Venue, Party or Event that this band cannot bring to life. Their energy is infectious and their set list is diverse and engaging. 
These four musicians have made their name synonymous with their sound, energy on stage and mash ups that keep the dance floor full all night.
Coverpalooza has become a verb; You have never heard the likes of Stevie Wonder, Led Zeppelin, Black Keys, Midnight Oil, Men At Work, Foo Fighters and Bruno Mars performed in the way it is. There is no other way to describe it except to say, these songs have been "Coverpalooza'd". Many bands perform these songs every week in venues around Australia but Coverpalooza are pushing the envelope with the character of their sound and performance, brining you something different and infectious. 
You'll have to see it for yourself, it's electric!