Entertainment
Now bringing you some of the best entertainment on the second Friday every Month and most of it's FREE!
Read on to see what is coming up or check out Facebook.
JUNE
Rock City Saints – Free Show
Stadium rock in a pub. A complete anthology of classic artists from The Doors to Jet. Rock City Saints are truly the new real deal. An explosive rock band that typifies the passion and expertise of the classic rock bands. This band will rock your socks off!
This is the complete AC/DC to ZZ Top of rock!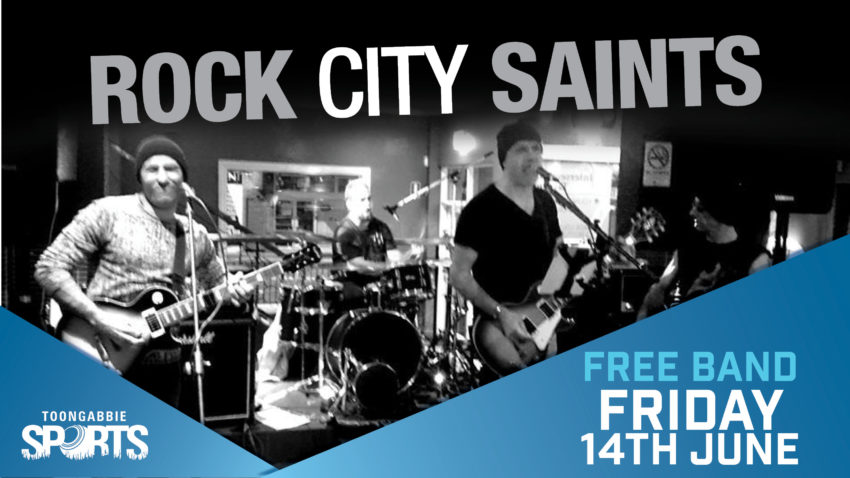 JULY
Spy V Spy
Spy V Spy return with support from The Emily Riggs Band and URBAN GUERILLAS!
The socially conscience band that has been around since the early eighties.
Started in Nelson Bay but really found their way once they moved to Sydney, living in the squats at Glebe.
Fast forward 30 years, Michael Weiley has itchy fingers & wants to get back to what he does best, play guitar live.He talks about seeing Cliff the original drummer while catching a train from Central Station & longs to re unite the magic they shared in the early days.
The message is sent out & Cliff replies a couple of years later & soon Cliff is back on the skins, providing the missing heartbeat to the band.
Their last show together on stage was to a sold-out show & Michael's last wishes for the band was for them to continue playing Spy v Spy music live.The Spy's live show is like being hit by a truck, the songs Injustice, Hard Times, Soldiers, A.O, Credit Cards, One Of A Kind, Don't Tear It Down, come at you hard & fast, music with a message, an experience in musical nirvana.The new line up is
Cliff Grigg, original drummer
Dean Reynolds lead vox
Andrew Davis lead guitar
Cam Hallmen bass
They Have been rehearsing their asses off to get the songs down pat to pay homage to departed brother.Spy vs Spy are ready to go.
A night not to be missed.
Only $10 for Members for 3 great Bands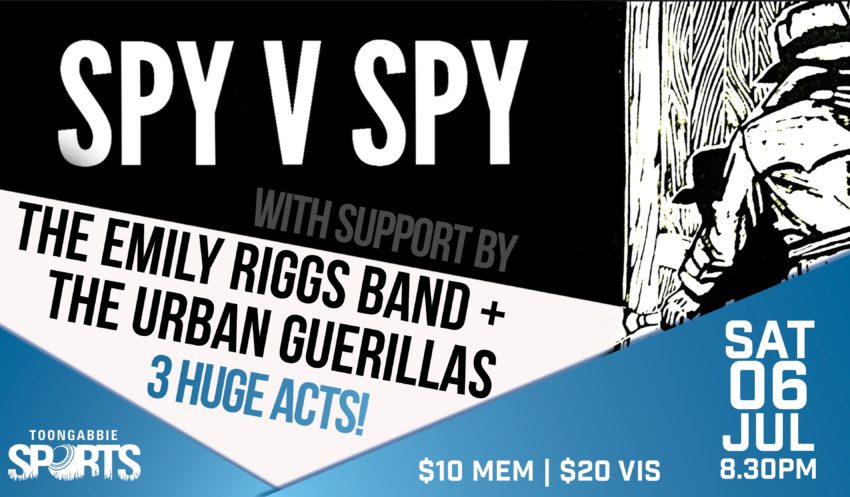 Back to the 80's
Right now we're gonna go BACK!….WAY BACK!!
BACK TO THE 80's – THE MUSIC VIDEO SHOW!
Australia's FIRST and STILL the best 80's experience.From the full stage production to the dancing girls, This show is set to entertain from the moment the lights go down.
Not as if BACK TO THE 80's isn't already putting on the BEST 80's experience, now they have a show unique in THE WORLD!
IT'S MTV ALL OVER AGAIN – LIVE!!!
Come and experience the 80's with the band who LIVED the 80's!Back to the 80's – THE MUSIC VIDEO SHOW!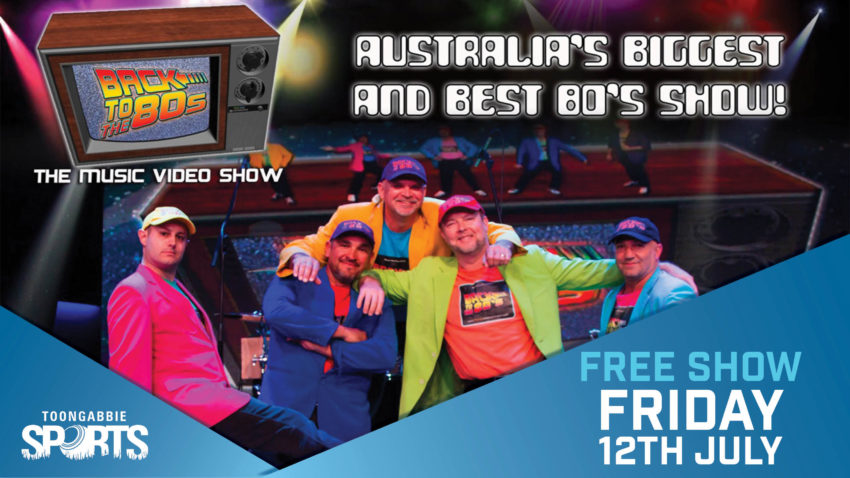 AUGUST
Lies n Destruction FREE SHOW
Lies N' Destruction – Australia's Ultimate Guns N' Roses tribute act, brings to life the world's most dangerous Rock N Roll band. Relive the music that defined the late '80s and early '90s, and experience firsthand the decadence and indulgence that shaped generations of obsessive fans
The band covers material from all of the band's albums, from the faultless debut album Appetite For Destruction with such classics as Sweet Child O Mine, Welcome To The Jungle and It's So Easy, through to GN'R Lies with cult favourites, Patience, Reckless Life and Move To The City. The band effortlessly dives into the Use Your Illusion Double Albums with staples November Rain, You Could Be Mine, Don't Cry, Knockin' On Heaven's Door and even more fan favourites like Civil War, Pretty Tied Up and Right Next Door To Hell. The album the world waited 15 years for, Chinese Democracy a sleekly produced epic that produced tracks such as the albums title track Chinese Democracy and Better feature in the bands set list. The band also performs songs from Velvet Revolver, ACDC and Slash's solo career.
In 2006 a journalist asked singer Axl Rose whether the original Guns N' Roses line up would ever tour again. Axl said "Not In This Lifetime". And here we are 2 years after the beginning of the Not in This Lifetime Tour, a tour that has grossed hundreds of millions of dollars and Lies N' Destruction are here to fill the need for Guns N' Roses songs being performed live whilst we wait for them to tour again.
Suitable for any pub, club or corporate event, Lies N' Destruction provide a night of unrivalled quality where your guests can experience one of the worlds most iconic rock bands.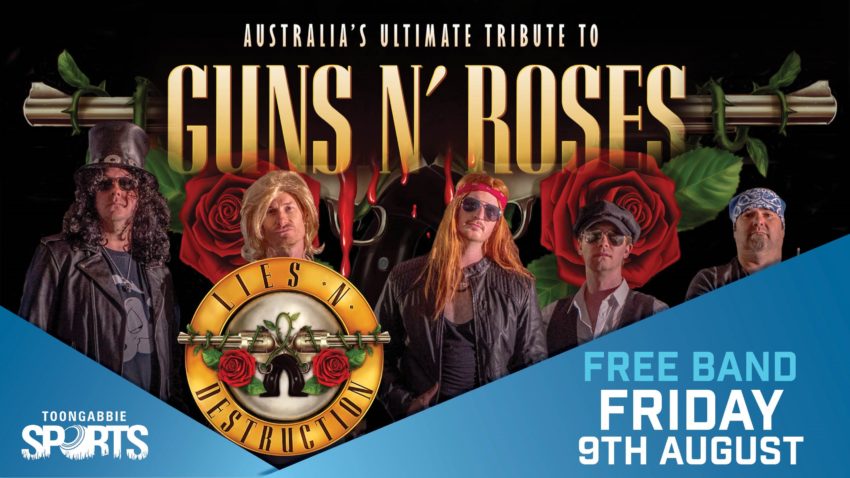 SEATTLE SOUND FREE SHOW
Seattle Sound is Sydney's #1 Cover Band with a more than twenty year history of huge live shows and crowds. Still bringing the flavour of the 90's grunge era!
It all started in the 90's, when Independent -"Grunge" music took the world by storm and leading the way were Bands from Seattle – USA…Pearl Jam, Nirvana, Stone Temple Pilots and Soundgarden who sold millions of albums worldwide!…..Thus the creation of Seattle Sound!!
Seattle Sound are a NSW Covers Band who formed in 1996 after realising that they could deliver the music of the above mentioned Bands to perfection!
Unlike the many other Cover Bands that were around at the same time, Seattle Sound strived for authenticity and are the only surviving show from that period.
Seattle Sound consists of 5 very talented muso's who not only play music from Seattle, but music that has been influenced by that period.
The guys are continually updating their Set List as to add in the much requested Bands of today, Pearl Jam, Foo Fighters, Incubus, Live, Nirvana, Kings of Leon, Guns'n'Roses, Metallica, Goo Goo Dolls, Collective Soul, Red Hot Chili Peppers, Fuel, Matchbox 20 plus plenty of other stuff with an everchanging setlist of songs from bands that were from or have been influenced by the Original Seattle Sound Era.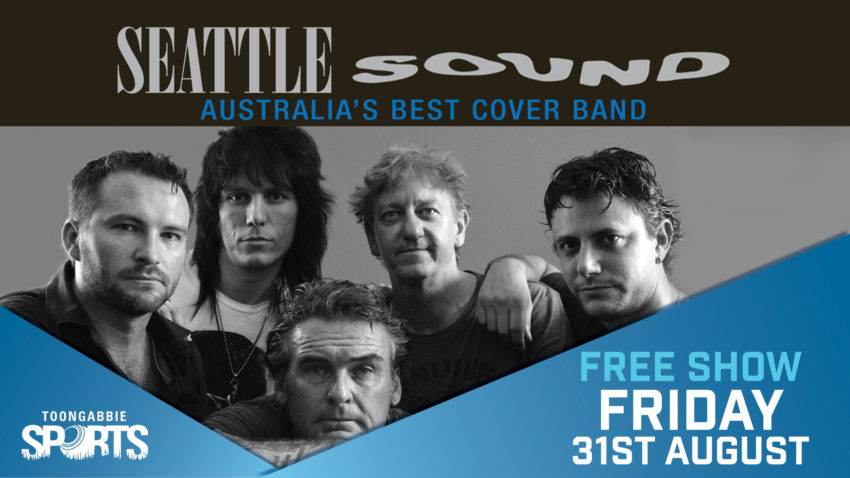 SEPTEMBER
Ugly Past FREE SHOW
In September we have Ugly Past – a fantastic 5 piece 80's and 90's cover band playing real music guaranteed to get you out of your seat!
Playing songs from artists like INXS, Split Enz, Van Morrison, Queen, Mellencamp, Chisel, Angels, Van Halen and Pearl Jam just to name a few.
There's sure to be something that brings back your Ugly Past. . . .