Entertainment
Now bringing you some of the best entertainment on the second Friday every Month and most of it's FREE!
Read on to see what is coming up or check out Facebook.
AUGUST
SEATTLE SOUND
FREE SHOW!
Seattle Sound is Sydney's #1 Cover Band with a more than twenty year history of huge live shows and crowds. Still bringing the flavour of the 90's grunge era!
It all started in the 90's, when Independent -"Grunge" music took the world by storm and leading the way were Bands from Seattle – USA…Pearl Jam, Nirvana, Stone Temple Pilots and Soundgarden who sold millions of albums worldwide!…..Thus the creation of Seattle Sound!!
Seattle Sound are a NSW Covers Band who formed in 1996 after realising that they could deliver the music of the above mentioned Bands to perfection!
Unlike the many other Cover Bands that were around at the same time, Seattle Sound strived for authenticity and are the only surviving show from that period.
Seattle Sound consists of 5 very talented muso's who not only play music from Seattle, but music that has been influenced by that period.
The guys are continually updating their Set List as to add in the much requested Bands of today, Pearl Jam, Foo Fighters, Incubus, Live, Nirvana, Kings of Leon, Guns'n'Roses, Metallica, Goo Goo Dolls, Collective Soul, Red Hot Chili Peppers, Fuel, Matchbox 20 plus plenty of other stuff with an everchanging setlist of songs from bands that were from or have been influenced by the Original Seattle Sound Era.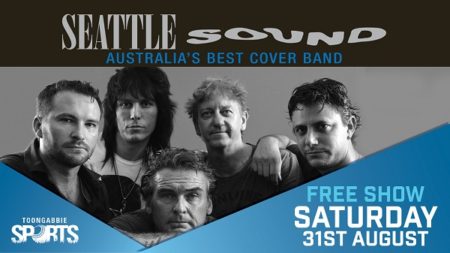 SEPTEMBER
Ugly Past FREE SHOW
In September we have Ugly Past – a fantastic 5 piece 80's and 90's cover band playing real music guaranteed to get you out of your seat!
Playing songs from artists like INXS, Split Enz, Van Morrison, Queen, Mellencamp, Chisel, Angels, Van Halen and Pearl Jam just to name a few.
There's sure to be something that brings back your Ugly Past. . . .