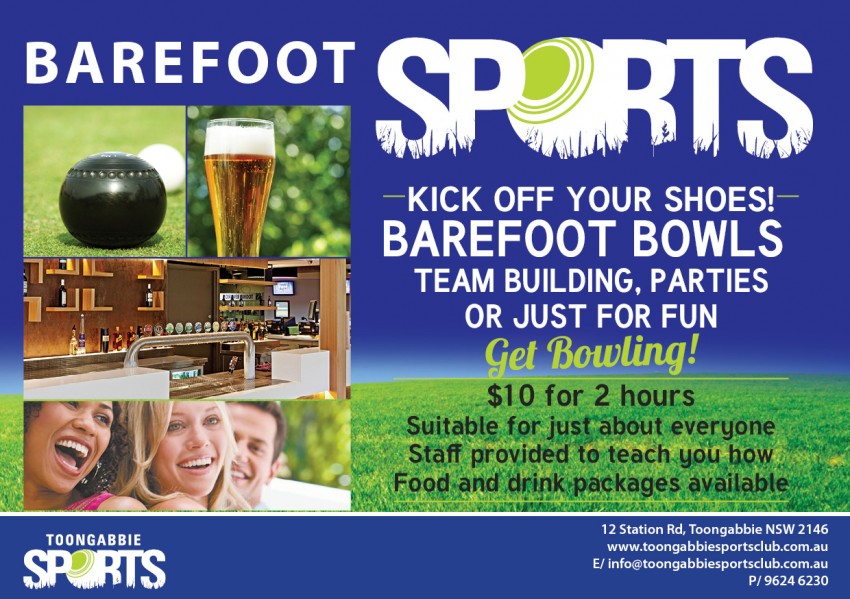 For Barefoot Bowling  Parramatta to Blacktown look no further than Toongabbie Sports for some fun in the sun! We provide everything you need to get started, you just add some friends, some food and drinks and your guaranteed a great time.
Barefoot Bowling is perfect for teambuilding, celebrations, staff rewards,  whatever really. And while there is a knack to mastering the game, the fun  comes naturally.
At Toongabbie Sports you can just rock up for barefoot bowls, or go the full hog with  food and drinks. For the corporate customers, why not bang it on at the end of a  training session in our modern function rooms.
Contact our Functions Coordinator on 8602 3702 or info@toongabbiesportsclub.com.au to book your barefoot bowling function!

How to Play
Never played Barefoot Bowls before? Barefoot Bowling is an easy game played in a social and relaxed atmosphere suitable for almost anyone.
The object of Barefoot Bowls is simply to get your bowl as close to the jack as possible. The trick is the bowl is weighted, so it doesn't go in straight line. After a few bowls even a novice can start to get the bowl where they want it, but just in case we will have someone available to explain to you and your guests how to bowl and the tricks of the trade.
Customer Reviews
Thanks Toongabbie!
"We had a great day. Our staff are not bowlers but they had a great afternoon out on the greens. A great opportunity to relax, mingle, and have a bit of fun to remove some workplace stress. The staff at Toongabbie Sports were fantastic and catered to our every need. I can fully recommend barefoot bowling and Toongabbie Sports for your next team building activity. . . . "
Gavin Axiak, Service Delivery Manager, Tech2Home

 barefoot bowling Parramatta
Toongabbie Sports Barefoot Bowling Parramatta, Toongabbie & Blacktown
barefoot bowling Blacktown
barefoot bowling Castle Hill