Our main auditorium space can be sectioned off for small or large bookings, depending on your actual requirements offering your own private bar, views of the clubs greens and adjacent restroom facilities.
Smoking is not permited in any of the clubs indoor spaces, but facilities are available for guests within the clubhouse.

ROOMS
All standard room hire is for up to 5 hours in a wide variety of setups to accommodate your needs.
Auditorium – Full, up to 100 – 200 people.    from $250
Auditorium – Main, 80 to 150 people.             from $220
Outback Room – 30 to 60 people.                    from $150
All room setups completed as a part of your booking before you arrive and include standard Audio Visual (TV screen and single cordless microphone) setups complimentary.
While some indicative layouts are provided below we are flexible to your requirements whether you need theatre style seating for presentations or formal dining settings.
Sample Fundraising setup, with prize/table displays, central presentation area and social aera with buffet for finger food. Total seating around 110, with toal capacity or 150.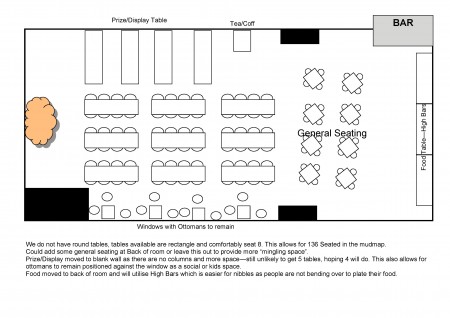 Formal dining setting for wedding or possible corporate presentation with dance floor. Dining seating for 88, with retained access to private bar area. Grey section is retained for general club use.