Entertainment
Now bringing you some of the best entertainment on the second Friday every Month and most if it's FREE!
FREE Karaoke Competition every Thursday from 8PM.
Read on to see what is coming up or check out Facebook.
---
 June
The Radiators
The rock 'n' roll road to stardom is a dangerous road indeed littered with the corpses of starry eyed hopeful's, wannabes ,one hit wonders and jagged "if only's"…while many bands self‐implode before they even leave the garage, victims of classic clashing egos and personalities ……
Few survive…
One of these survivors is Australian band THE RADIATORS who retain their enthusiasm for the music and the fans after more than 35 years of touring together.
The Radiators have carved a niche in the annals of Australian rock history, they have hared the stage with all the great Aussie acts such as AC/DC, Rose Tattoo and INXS with over 4000 shows to their credit, the Radiators have played the music to an estimated 3 million people in Australia and you're next!!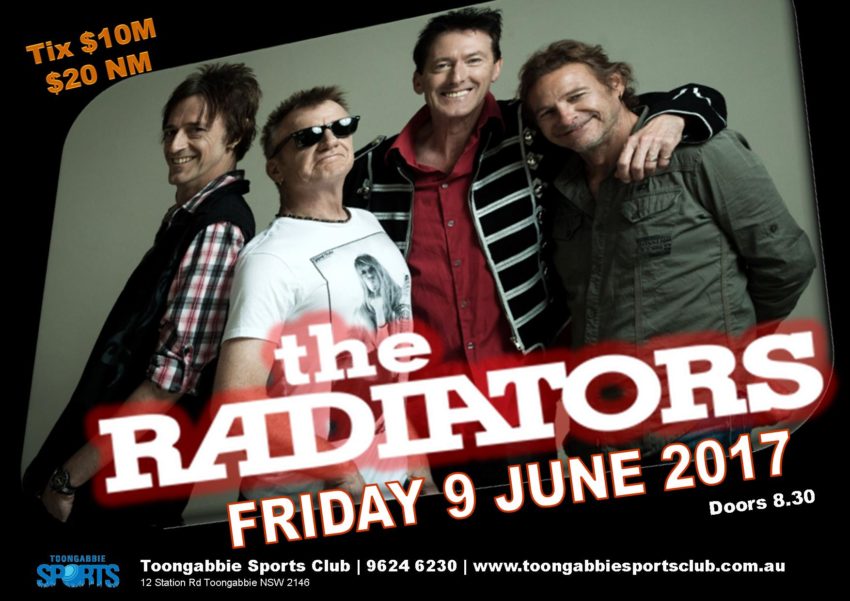 July
Glory Days – Springsteen Tribute
Bruce Springsteen is an American musician, singer, songwriter and humanitarian. He is best known for his distinctive voice, his work with his E Street Band, his working class attitude and the Americana style of music. Springsteen is renowned for his brand of poetic lyrics, and nicknamed around the world as The Boss. Springsteen concerts are lengthy and energetic stage performances, sometimes running over four hours in length with no breaks.
Springsteen has sold more than 64 million albums in the United States and more than 120 million records worldwide, making him one of the world's best-selling artists of all time. He has earned numerous awards for his work, including 20 Grammy Awards, two Golden Globes, and an Academy Award as well as being inducted into both the Songwriters Hall of Fame and the Rock and Roll Hall of Fame in 1999. He is ranked no 23 on Rolling Stone Magazine's 2004 list of the 100 Greatest Artists of All Time.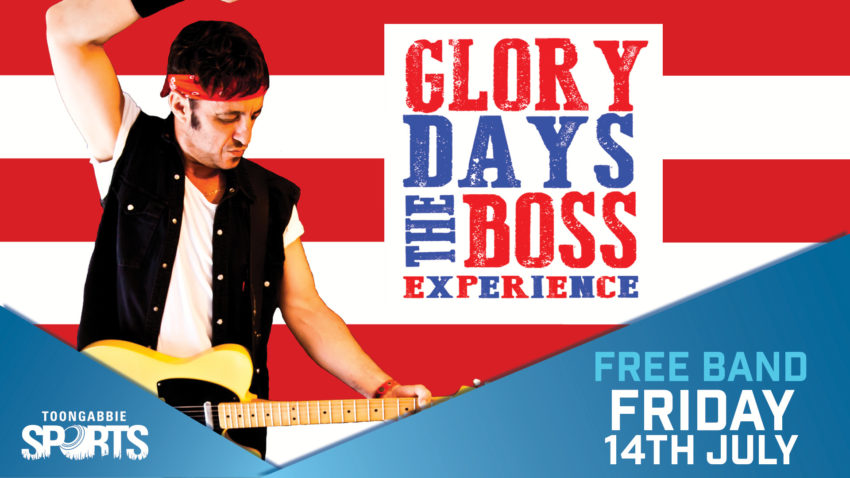 August
Boys Light Up – Australian Crawl
When Australian Crawl first appeared on Victoria's Mornington Peninsula pub scene in 1978, no one had heard a voice like James Reyne's. With his song-writing and unique vocal style, Aussie Crawl soon gathered a local following that began to spread like wildfire into the suburbs of Melbourne and then Australia wide. Their songs had a sense of Aussie Summer Sun, Surf and good times about them and not only were they a big part of our "beach culture", their music appealed to a much wider audience.
And now, almost 40 years later, we're proud to present our tribute to this great band and unique vocalist in our new show Boys Light Up.
Boys Light Up pays tribute to both Australian Crawl & James Reyne in an all live show, featuring hits from "The Crawls" biggest albums and James' stunning solo career.
Australian Crawl.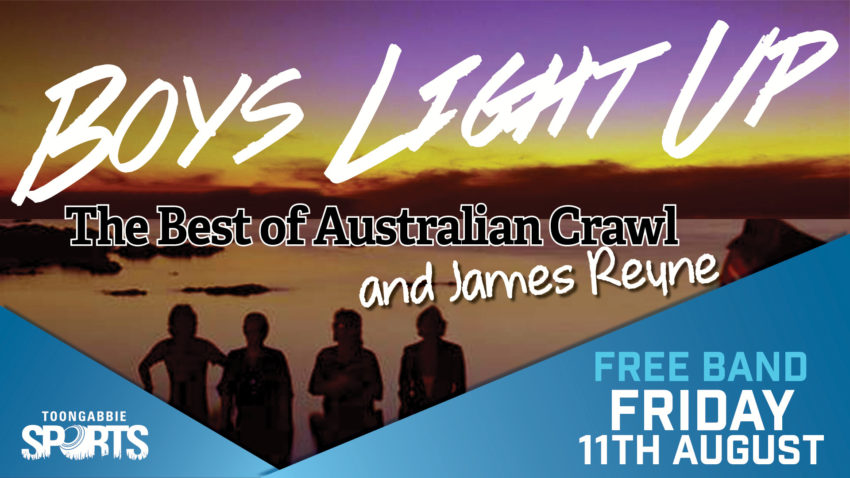 September
Soundbird
Well we just had to get these guys BACK!!
One of the most energetic cover bands around whose ethos is…
For thousands of years we have enjoyed music to celebrate events, unwind and connect with emotions.Some songs resonate stronger than others and we relate to
…
them with moments in our lives.

Audiences these days are no longer just into one band or even a single genre of music.
In this modern age the album has been shelved and 'singles' have thrived. This has been recognised
and subsequent
ly the cover band 'Soundbird
' has been put together.