Toongabbie Sports and Bowling Club is much more than your average bowling club.  Our brand new modern club has fantastic pricing, excellent food,  and  great alfresco areas including a grassed area for the kids and an arcade for the older ones.
With great ongoing promotions and raffles and more than 70 screens throughout the club there is sure to be something appealing to you and your friends. Membership is only $5.00 for a year or $10 for three years, so join now.
BEATNIX – Fifty years after the Beatles stopped touring,  their music remains popular with people of all ages who grew up with the legendary British group that changed pop music forever.  Along with their children and grandchildren they are all keen to be part of real live Beatles experience.
"People can't get enough of the authentic Beatles sound, they never go out of style" Dean said. "So many people who loved them in their heyday did not get to see them perform so they love dancing along as we belt out their favorite tunes in true Beatles style along with the costumes and on-stage quips typical of the Fab Four"
That's not where the authenticity ends -  the group also has the genuine musical instruments, guitars including Gretsch, Rickenbacker, Gibson and Epiphone, Ludwig drums and Vox amplifiers identical to the ones that were used by the Beatles and would be recognised by Beatles oficionados.
The Beatnix play a string of Beatles favorites from the early hits right through and including the last album.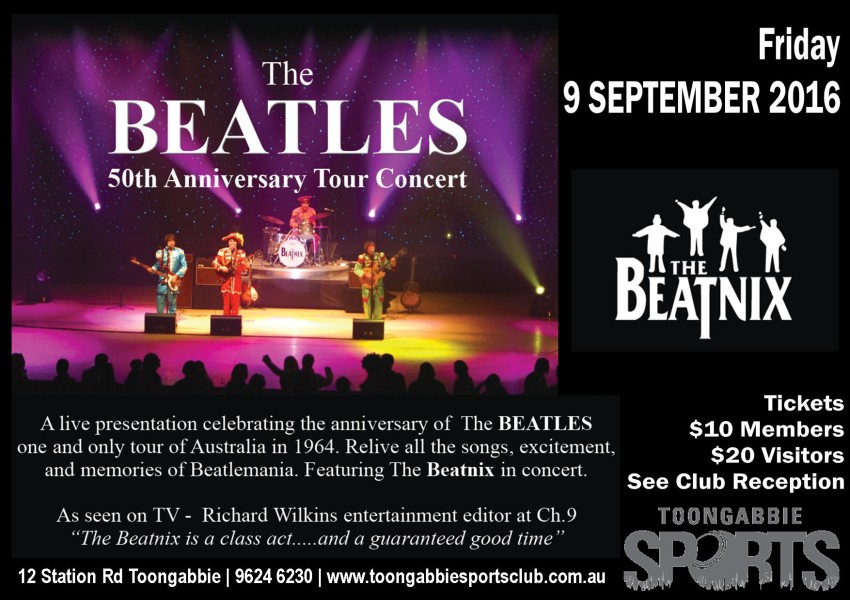 But also get details of other upcoming shows such as INXS Tribute, Hotshots Male Review, Dragon and the Radiators here.
At Toongabbie Sports Club we can cater for any private event including seated dinners for up to 200 or smaller more intimate gathering as small as 30*
Did you know Toongabbie Sports directly supports more than 2,000 local sporting participants?
Did you know Toongabbie Sports spends  more than $145,000 a year on sports within your community?
So support the club that supports you!
If Barefoot bowls are what you are after please go to our Barefoot Bowling pages to find out more or contact the club on (02) 9624 6230